Dolls
My dolls are always evolving, but the homemade cloth doll was the original inspiration. Miniature versions may be formed from fine hand-stitched glove suede – with a wire armature in their lower body, or they may be of rolled leather for strength. They measure up to 1 ¼ inches in height and have painted faces and embroidered cotton hair.
All the dolls have knitted cotton or silk clothes with silk sashes and tiny glass or pearl buttons. Their leather shoes have separate uppers and soles. They may have a raffia basket or a tiny suitcase of snake skin leather to hold a wardrobe of clothes – including spare dresses, a negligee and often a tiny raffia hat. The cases and clothes are separate items that can be handled and rearranged with care.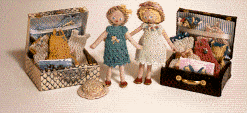 Some dolls have invitations to visit or go to parties but others are planning to get married. The contents of their cases tell about their adventure.